Our first AMA in the Astar Ecosystem, with the brilliant GaiaStarter team on their discord on 28th of April at 7AM UTC
Q1:
First of all, welcome to GaiaStarter. Pleasure to have you here with us today. Please briefly introduce StarSwap :)
Thank you GaiaStarter. We really appreciate the opportunity. In fact this is our very first AMA on the Astar ecosystem. Really excited to be here, sharing details about our project with the GaiaStarter community. My name is Mayan and I'm heading StarSwap. StarSwap is a DEX with an NFT utility layer over it. Hoping to build a DEX that's focusing on the community of Astar.
Q2:
What makes StarSwap different from other DEX and AMMs?
Obviously DEX and AMMs are pretty standard, tons of platforms over the dozens of networks we have now. That's the main reason we wanted to build something original, something that adds a better use case to the existing functionalities of standard DEXs.
StarSwap will add the much needed utility layer to NFT tech, the one thing the entire DeFi community's been complaining about with NFTs is there's no use case other than just using as collectibles.
We are introducing NFT Governance.
Our platform will incorporate NFTs to the DeFi system giving regular community members a chance to be a part of our project, governing the DEX and earning 100% of the platform's trading fees.
All the trading fees will be distributed to the holders of our StarCards NFT.
But that's not all, StarSwap will be giving every other NFT projects on the Astar Network an opportunity to give their collectors an actual use case and purpose of having their NFTs, with our NFT Staking.
Q3.
Please tell us about your team and your background!
I'm heading the project with a dev team that's led by Hiro. The team has a front end UI designer, a solidity dev and Hiro. Hiro is very reputed in the Fantom ecosystem. He's built one of the OG nft platform there and he's been spotlighted by the Fantom foundation and the project's he built is even featured on the Entrepreneur Magazine. We also have a designers team for our NFT side, which consists of the one main designer (our team member) and 3 hires from Vietnam, Russia and India.
Q4.
Why Astar Network, what made you choose Astar over others?
Well, it was a very easy choice. We've been following the DOT ecosystem for quite a while. But there wasn't a properly built network to build DeFi applications for so long regardless of the massive support Polkadot got during the last couple of years. But then came Astar. Giving builders like us to start building on the Dot ecosystem.
We want to give our users an incredible DeFi experience. That's the reason StarSwap is built on Astar Network, the fastest growing blockchain on the entire Polkadot ecosystem. Astar Network is getting massive popularity with its low transaction fees and superfast transaction confirmations. So it was so easy to choose Astar over others.
Q5.
Been hearing about StarCards, what are these NFTs that are associated with the StarSwap project?
As briefly mentioned above, StarCards is like the key focus of the project, the holders can govern the DEX through their StarCards and can also earn 100% of the platform fees. StarCards holders don't need to worry about secondary sales or NFTs getting hit by bear season or lack of demand. StarCards will keep earning from the DEX regardless of the market situations, which makes it even better.
Here's a sneak peek of some of the StarCards that are coming soon to Astar. The first phase of 1000 StarCards will launch on 5th of May at 5AM UTC.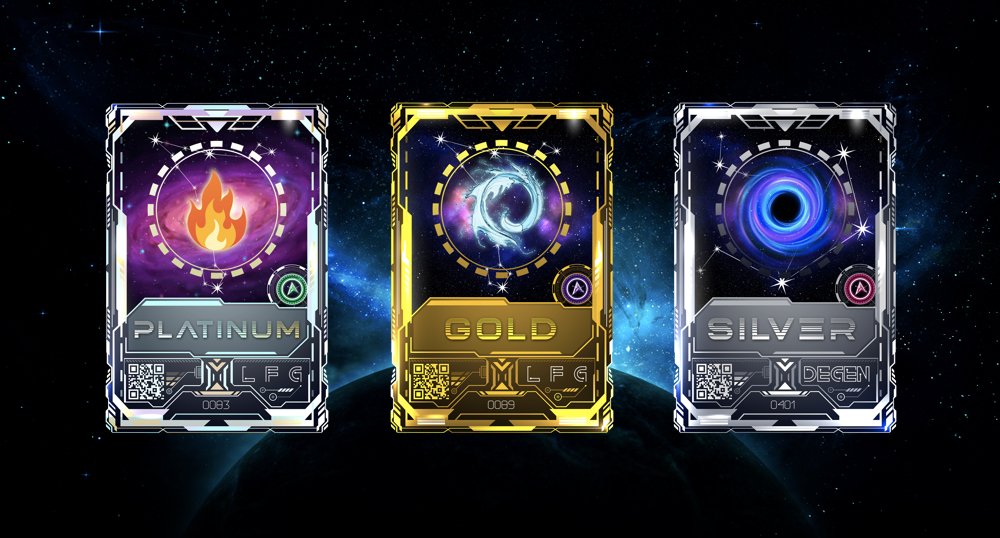 Q6:
StarCards looks fantastic, could you tell us what holders can do with your NFT they own?
Thank you. Yes, we've been working on the design and utility layer of StarCards for quite a while.
The first thing is holders of StarCards NFT can govern the DEX. Technically holders will control the entire operation of the DEX from what projects to list on farming or staking pool, what % of yield they get, etc.
They would also decide what other NFT projects from the Astar ecosystem to be added to our NFT staking. They can decide on whether or not to accept a project by analysing the team and evaluating the project.
The third factor is already mentioned above, NFT holders StarCards enjoy 100% platform fee, having a passive revenue stream simply by holding an NFT.
Q8.
What will be your influence and impact to Astar Network?
This is something very important to us. The other day someone asked us about what are our plans to be better than our competitors. That's the thing, we don't have to be competitors, we want to work WITH the teams instead of work AGAINST them.
We want to help each other and grow, making the entire community to grow along with us.
Our NFT staking will help all the NFT projects in the Astar network, making them help their users, in return having us influence their communities as well, even though it's indirectly.
Being inclusive, and being able to work with the other builders in the ecosystem, we hope we sure will be able to make the right impact on Astar.
Q9:
Is there a native token to StarSwap? Please tell us more about the use case of your token?
Definitely. $STAR is the native token of StarSwap. The community can earn farming and staking rewards in Star tokens.
80% of the total supply is allocated to the community, our goal is to create a community-first attitude among other builders as well.
100% of platform fees is distributed to the holders of StarCards NFT.
Q10:
Being a team that's been working with other DeFi ecosystems, how do you find the community of Astar?
The community's been absolutely incredible. The support of the community's in fact insane. To give an example, our discord was opened like 24 hours ago and almost 700 members joined within that time.
It's so incredibly humbling seeing how supportive the Astar community members are.
We should also mention the other projects of Astar like GaiaStarter too for being open and supportive to each other. We push forward the 'together we build' motto.
Q11:
What are your plans for the community and ecosystem building for StarSwap?
We value the Astar community so much, especially with all the support they've been giving us in the past few days.
Our primary goal is to build something the community wants, in return bringing more and more users to join our platform.
We also want to work with other teams at a technical or community level to grow not just our userbase but for the others as well.
I think by giving consistency in development, something that every member in the community looking for in a project, regardless of market and price actions, the support will only increase.